NEWSLETTER

Updated: February 5, 2016

National Championship Write-up and pictures
I will post here all Classic and Championships that email me
their running orders.
Please send pictures and write-ups for your trials and they will be posted here.
Robert E. Lee Open Invitational Championship
February 2, 2016
This years Open Invitational winner is Hifives Passin Time handled by Garry Malzone. Runner-Up is Megan's Blackjack also handled by Garry Malzone. Due to the weather pictures were not yet taken. I will update with more information when I get it.
US Complete Shooting Dog Futurity
February 4, 2016 8:00 am
First: Tarheel Stub owned and handled by Dennis White
Second: Indian Creek Bocephus handled by Garry Malzone
Third: Miss Starlight Star owned and handled by Donald Terrell
Fourth: Cap'n Sam handled by David Huffine
Futurity Puppy Classic
February 5, 2016 8:00 am
First: upper Ten Riley handled by John Adsit
Second: Chibb handled by Eric Russell
Third: Bob's Elhew Lucy owned and handled by Bobby Phillips
2015 Amateur Inivtational Championship
December 4, 2015
The Running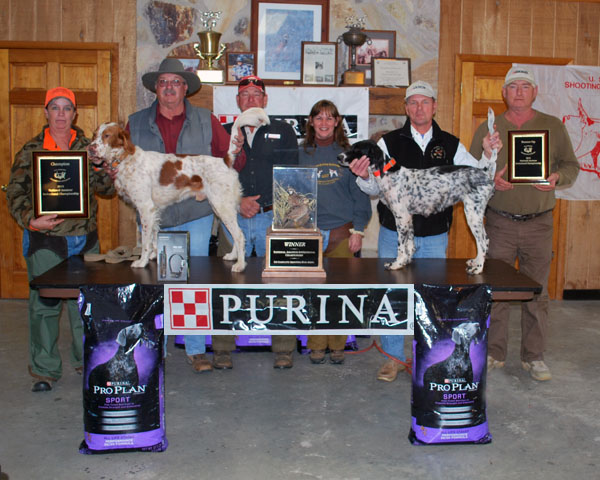 Sharon Townley, Phil Rutter with Champion Rutter's Dusty Socks, Judges Johnny Lewis and Bobbie Sigmund, Ashby Morgan with Runner-Up Pinekone's Black Rose and Butch Haywood.
Please click on www.purinaproclub.com to sign up for the ProPlan Club and email me your member number.
This will entitle you to some great benefits from Purina
If you already belong to the program, please email me your member number.
email: uscsda@hotmail.com
__________________________
National Championship Write-up and pictures